A sanctuary for local families in Hunts Point
BY AUDREY NIELSEN AND ANACAONA RODRIGUEZ MARTINEZ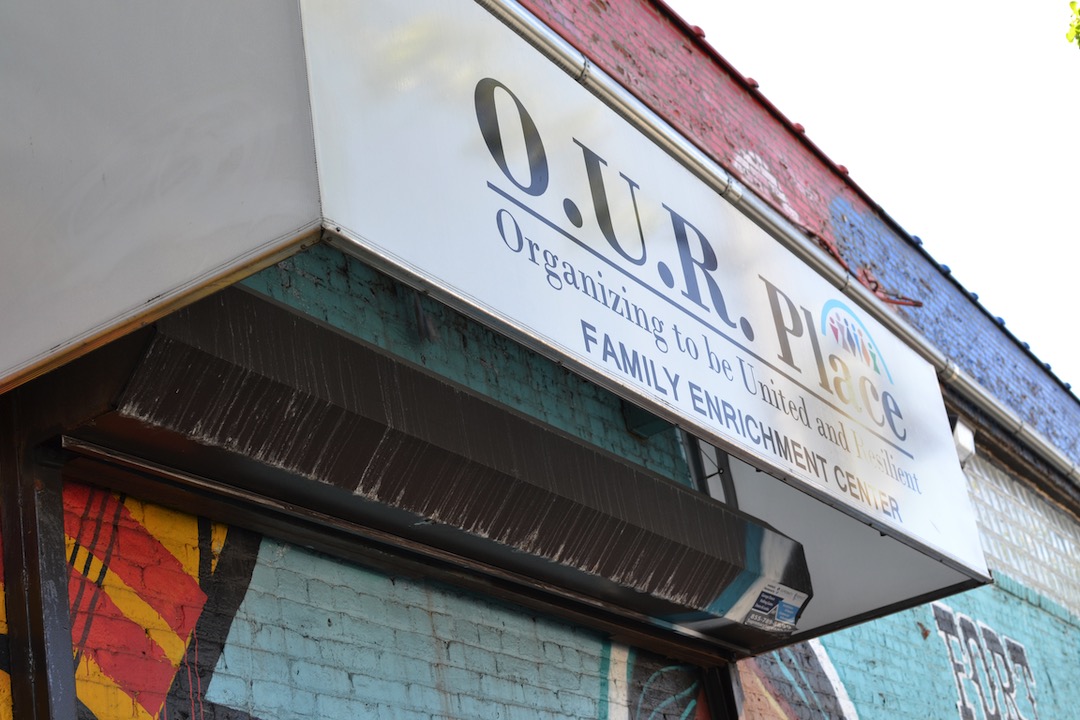 Entrance to O.U.R. Place. Photo by Anacaona Rodriguez Martinez.
Visitors to O.U.R. Place, a small space tucked into the side of The Point community development center in Hunts Point, find something new going on every time they arrive.
On one day, rolling bookcases have been pushed to the sides of the main room and decked with doughnuts, toys and gift bags to celebrate a group of neighborhood kids who just finished taking an exam. 
On other days, play gym equipment for little kids might fill the floor, or extra tables could be set up for people getting help filling out various applications. A versatile kitchenette stretches across the back of the center, with hybrid space for people to make hot drinks and do their laundry. 
Sun-filled and designed to feel like a welcoming living room, the team behind O.U.R. Place hopes to bridge the gap of resources and support for families and children in Hunts Point. The space adapts to whatever the need of the day is.
"Mistakes are proof that you are trying," a sign over the kitchenette declares.
Funded by the city Administration for Children's Services and the Graham Windham nonprofit, O.U.R. Place is an ACS "family enrichment center," part of a program that began rolling out in the Bronx and Brooklyn in 2017. 
This summer, nine more enrichment centers are slated to open across the city. In the coming years, plans call for creating another 21 centers.
The new locations include one in Mott Haven, administered by the Reggio Emilia Montessori Center, a Brooklyn-based nonprofit. 
"When community members come together to support each other, children and families thrive."
Anne Williams-Isom, deputy mayor for health and human services and Jess Dannhauser, commissioner of the Administration for Children's Services, announced the expansion in March. 
"When community members come together to support each other, children and families thrive," Williams-Isom said. "Creating free, inclusive, stigma-free spaces where neighbors can deepen connections and build supportive networks is the heart and soul of the family enrichment centers." 
Racks of donated clothes are part of the O.U.R. Place Family Enrichment Center's "community closet." Photo by Audrey Nielsen.
The first three center locations were chosen because their neighborhoods — Hunts Point, Highbridge and East New York — have historically experienced high rates of reported child abuse and neglect, according to David Hansell, former commissioner of the Administration for Children's Services. 
The nine upcoming center locations were selected by the city's Taskforce on Racial Inclusion and Equity, based on an assessment of the communities hardest hit by COVID-19 and by health or socioeconomic disparities.
Hunts Point is a historically marginalized neighborhood, with 42.7% of households making less than $20,000 annually as of 2019. The neighborhood has one of the highest poverty rates in the city at 39.6%, with 54% of children living in poverty, according to a report by the Citizens' Committee for Children.
The centers are designed to help connect community members and offer services to families at risk of falling into the child welfare system. While funded by the Administration for Children's Services, the centers operate separately from the agency — center workers don't report child neglect or abuse allegations, or handle family or individual cases. 
Instead, center leaders strive to offer families what they say they need.
"We work with the community to adapt to what the change is versus the other way around. (We don't want) the community adapting to our program to make sure that our program runs well," said Emily Lopez, director of O.U.R. Place.
One offering at O.U.R. Place: helping community members take a free online city Department of Health course to become a certified food supervisor. A local caterer helps teach food handling lessons, and community members meet in their own study groups to prepare for the exam. If they pass, the center refunds them the city's $24 exam fee. 
The center also offers a clothing mart, set up like a boutique. All of the clothing is new or lightly used and is donated by partners and friends of the family enrichment center. 
Juan "Tony" Rodriguez, O.U.R. Place's building manager, organizes items for a clothing drive. Photo by Anacaona Rodriguez Martinez.
"We're not providing any magic," Lopez said. "The magic is in connecting the community." 
All family enrichment centers have an advisory council selected by community members. The centers launching this summer will be seeking out community partners and developing their own evolving missions.
At the beginning of the pandemic, it became clear that needs in the South Bronx were quickly changing. O.U.R. Place began coordinating with community organizers to deliver meals curbside, using cars volunteered by staff members and the center's CEO.
"I needed to learn how to buy pallets of food," Lopez said. "We had a community partner who was gracious enough to talk me through how to order pallets of food." 
Before the pandemic, neighbors could come into O.U.R. Place anytime it was open. Now O.U.R. Place is largely back in-person, with hybrid remote and by-appointment services. 
More information about the offerings at O.U.R Place in Hunts Point can be found at ourplacefec.graham-windham.org.